FOUNDER O.W.A.P. - TEAM FRANCE:
Militating for Love and Peace and saving the Environment since she was 11, Kim Michelle has always answered her calling by dedicating her life to making the World a better place....Inspired by Jesus Christ, His Holiness the Dalai Lama, Gandhi, the Maharishi Mahesh Yogi and his Transcendental Meditation, Cesar Millan, Bruce Lee, Michael Jackson, and Landmark Education's The Forum and Curriculum for Living. Kim Michelle, a Vegan, has spent her life on a quest for spiritual growth and Enlightenment, which she translates actionably into specific, concrete and measurable results for all her V.I.P. Projects. Her compassionate Animal Rescues have become her Life's work...
"Kim Michelle Broderick Ba Hons. trilingual British actress, singer, dancer, Theatre Director and Queen's Guide, studied French at Warwick University, England before training at Royal Academy of Dramatic Arts, London. Born to an English and Drama Teacher mother and cyclist father in the Travel Trade, Kim -Michelle does voice-over work, coaches actors and directs plays as well as simultaneous interpreting, conference presentations and teaching English through Drama Techniques. Well-known in France for her Non-Profit Association One World Actors Productions' Bi-centennial Entente Cordiale Projects spanning 3 years of producing Theatre, Art and Multi Media events at UNESCO, Comédie Française and Espace Cardin and straddling frontiers throughout Europe....
"Kim's Yorkshire grit, vitality, passionate devotion to the work, inspirational talent, caring, humanist values and youthful appeal, together with her empathic, kind and gentle nature all make her a perfect team member - and her experience, credentials, excellent communication and coaching skills are a sure-fire ingredient in any Project's success." Taking loving action every day to protect animals from man's cruelty, combat the 6th Extinction and save our Planet.
TEAM UK:
Always aspiring to the morals instilled in me as a child that we all have a responsibility to the vulnerable, including our non-human co-habitants of this beautiful planet which we share.
I am active in many animal welfare campaigns; more recently campaigning for a complete fur ban in the UK and throughout my life for the release of all orca and dolphins from cruel capture, training and lonely lives in the entertainment industry worldwide.
Check out my new sustainable gifts business INDIE-GO! UK SALES ONLY https://www.facebook.com/WorldyGifts/ 10% of all sales go to ONE WORLD ACTORS PRODS-Animal Rescues! I am spurred on by the support of loved ones and like-minded friends I choose to have in my life.
TEAM NEW ZEALAND:
Passionate animal welfare advocate and conservationist, from Wellington, New Zealand
www.zebrano.co.nz
Passionate about all animals, Karyn strives to help with several Facebook groups in getting the message out to save endangered animals and stand against trophy hunting. The animals in Yemen are caught in a quagmire of war and poverty and helping the survival of these rare species is the ultimate goal.
Working from her advertising background, she loves to design and create graphics for animal welfare. Currently living with her husband and two cats in Washington state, she also pursues her love of painting, eventually hoping to travel more abroad.
Me and mi Didi fighting animal abuse around the world . He is no longer here in body but his strong spirit is…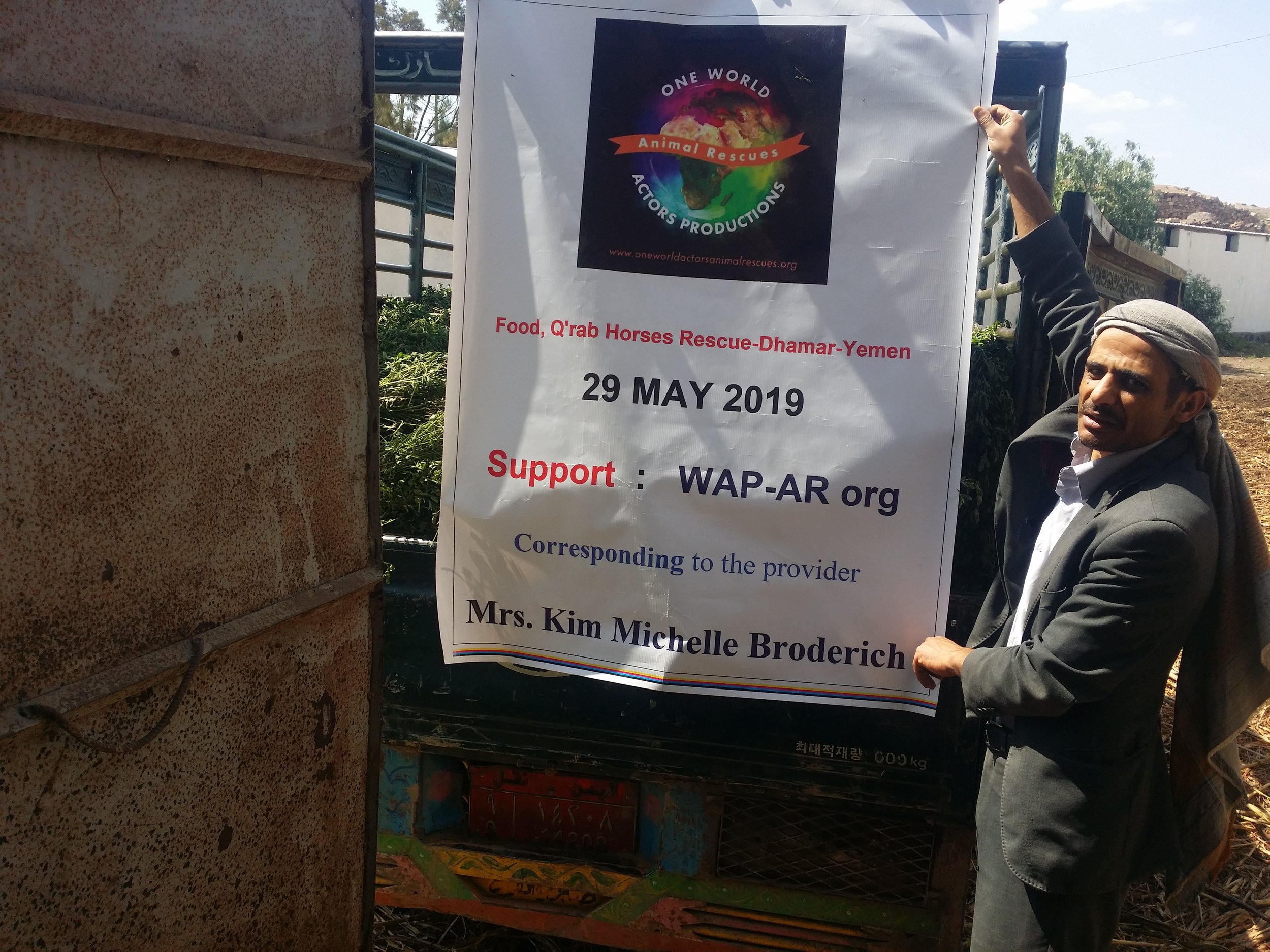 OWAP-AR's Ground Ops. Coordinator of our Stables and Farm Animals rescues, Dhamar, Yemen:
Our hands-on Hero on-site!
Dr. Khaled Yahya Saleh ALWAAQ
Bachelor of veterinary medicine and surgery from the Faculty of Veterinary Medicine, Mosul University. Iraq in 2004. Post-Graduate Master of Avian Pathology University of Dhamar, Yemen and Member of the Association of Yemeni Veterinarians, Dr Alwaaq has held several positions at Al-Sanabani for Poultry and Agriculture Company ( SAPCO & AL SANABANI ) since 2005. A social activist, he has worked since February 2016 with OWAP's Kim Michelle Broderick to help save the wild animals in Taiz Zoo during the war and since November 2016, is OWAP AR's volunteer Coordinator vet of our Arabian Horses Rescue Mission and Stray Animals Rescue & Shelter Mission in Sana'a, Yemen's capital.
OWAP-AR Chief Ground Ops. Coordinator, Sana'a Yemen
Since I was a young boy I use to help stray animals. I always feel bad on how humans deal with other creatures. But never lost hope and continued in giving my help wherever I go. All animals has the right to live in this planet. Humans don't have the right to end life or take life. We are all created here from God to live and love each other. I hope all understands that animals are miracle sent to us.
OWAP-AR's Assistant Ground Ops. Coordinator , Ibb, Yemen